about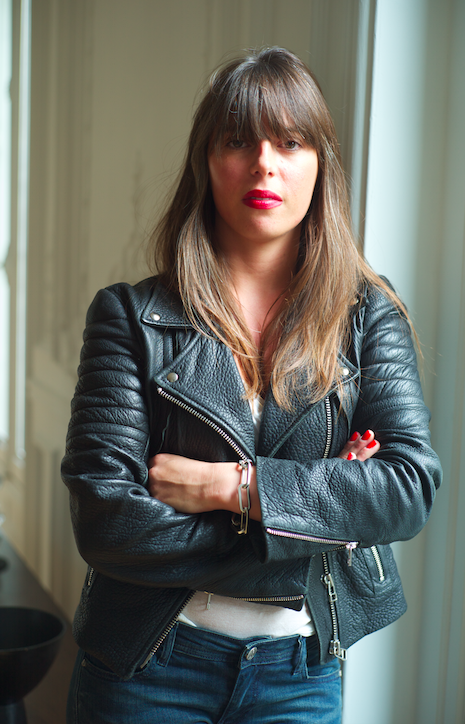 Dans l'enfance, il y a la figure du grand-père ami du sculpteur César et comme seul souvenir de sa première fois à New York, celle d'un Guggenheim plein d'écrans de télé de Nam June Paik. L'intérêt pour l'Art aurait pu s'arrêter là. Peut-être. Si sa mère ne l'avait pas trainée aux vernissages de ses amis galeristes, dans des ateliers d'artistes ou les salons feutrés de collectionneurs. Aujourd'hui, Margaux Barthélémy a creusé son sillage, formé sa bande ("des créatifs, artistes, archis, photographes") . Et à suivre son compte Instagram la jeune femme de 28 ans semble avoir retenu la leçon. Quand elle part en vacances entre copains c'est pour passer l'été aux rencontres de la photographie d'Arles, ville brûlante. "Je préfère prendre un vol low cost et un bateau taxi pour me rendre à la Biennale de Venise qu'en vacances sur une plage de sable fin au bout du monde" sourit-elle. À moins que ce sable soit celui de Venice Beach et donc pas trop loin d'une maison signée Charles Eames. Sa dernière rencontre en date, a eu lieu à quelques blocs de là, avec Peter Shire, figure historique de Memphis dont elle est fan. Ce sera son souvenir de Los Angeles. Arrêtez tout, c'est ça qui fait vibrer Margaux Barthélémy : se nourrir de l'art actuel et du design.
Après une prépa d'Arts Appliqués à Penninghen, elle est reçue en architecture d'intérieur et design à Camondo. Elle y fait un passage éclair pour entamer une licence puis un master de marché de l'Art à Paris. Son rêve? Exercer un métier qui lui permette de continuer à faire ce qu'elle a toujours fait. Concrètement? Organiser des expositions ou devenir curateur.
En attendant de le faire chez elle ou pour le compte d'autres, elle se forme, observe et entreprend. Ses lieux d'apprentissage?  Des ateliers d'artistes comme celui de Mathias Kiss,  et des galeries d'art contemporain à Paris comme la Carpenters Workshop Gallery et son homologue à Londres où elle a passé près d'un an. Ou encore le site www.Early-Work.com, première plateforme en ligne dédiée aux étudiants en écoles d'art et jeunes diplômés, qu'elle co-fonde en 2015.
Le reste du temps -et quand elle ne joue pas au cowboy d'Instagram-elle s'essaye à décortiquer l'actualité du monde de l'Art, coucher ces réflexions sur papier. Il en ressort des critiques bien senties sur les temps et lieux forts du moment et certaines fois, des conversations qu'elle n'hésite pas à pimenter d'arguments quand le sujet l'enflamme. Parlez-lui de marchandisation et de vulgarisation de l'Art et vous verrez ses mains souvent vernies d'un rouge qu'on décrirait vermillon s'agiter pour accompagner ses paroles. Ce qui l'énerve ces jours-ci? « la raréfaction en France de collectionneurs curieux, pas frileux et iconoclastes comme Claude Berri, Jacques Grange ou Marcel Brient au profit d'acheteurs multi-milliardaires, moins cultivés, plus mass market ».  A moins que la conversation dévie sur l'entertainment orchestré par certains galeristes faisant appel à quelque rappeur américain célèbre, suivez son regard… Elle lève simplement les yeux au ciel façon de dire « allons à l'essentiel, qui est ailleurs ». Et si c'était sur ce site?
During her childhood, there is the figure of her grandfather, friend of the French sculptor César. Standing out in the memory of her first visit to New York City are walls of Guggenheim filled with an abundance of Nam jun Paik televisions. Interest in art could have stopped there. Perhaps. Perhaps if her mother had not dragged her to gallery openings exhibiting the works of close friends, visits to artists' studios or the padded lounges of art collectors. In her wake, Margaux Barthélémy formed her inner circle (of creatives, artists, architects and photographers). And to follow her Instagram, you'd quickly realize the 28-year-old has retained the lessons of her childhood. Vacation for Margaux is a summer well-spent among friends at the Rencontres de la Photographie in Arles – an annual festival in the South of France dedicated to photography. "I prefer it to taking a cheap flight, and a ferry to La Biennale di Venezia to holiday on a sandy beach at the end of the world," she says, smiling. So long as the sand is really Venice Beach and therefore not too far from the Eames House. Her most recent meeting took place a few blocks away with Peter Shire, renowned artist and creator of Memphis, of which she is a fan. This is her memory of Los Angeles.
Everything else aside, that's what thrills Margaux: Feeding on contemporary art and design. After a preparation of Applied Arts in Penninghen, she was accepted to the interior architecture and design program at Camondo. She also obtained her MBA in the art market at a Paris university.
Her dream? To do what she has always done. In practice? Organize exhibitions or become a private curator. While waiting to curate her own home or the homes of others, she observes, continues learning. Her classroom?  Artist's studio such Mathias Kiss in Paris where she currently works, and galleries of contemporary art in France, such as the Carpenters Workshop Gallery and its counterpart in London where she spent nearly a year. The rest of the time – when she's not playing cowgirl on Instagram – she analyzes news from the Art World, formulates her thoughts on paper and sometimes shares them online through the Art Media Agency. Her articles are generally critiques befitting the time and, true to form, she doesn't hesitate to feed the fire when an argument ensues. Catch her in a discussion about the commercialization and popularization of art in the market and you'll also catch her hands, fingernails often painted a vibrant red, waving fervently to accompany her opinions. Biggest pet peeve? The scarcity of curious collectors in France, unlike the chilly and iconoclastic likes of Claude Berri, Jacques Grange and Marcel Brient who are being passed over in favor of mass market collectors, billionaire and less educated. Unless the conversation turns to the evening entertainment orchestrated by some gallery using some famous American rapper, follow her gaze… she just looked up to Heaven as if to say "Go back to the basics, which is elsewhere." And if it were on this site ?